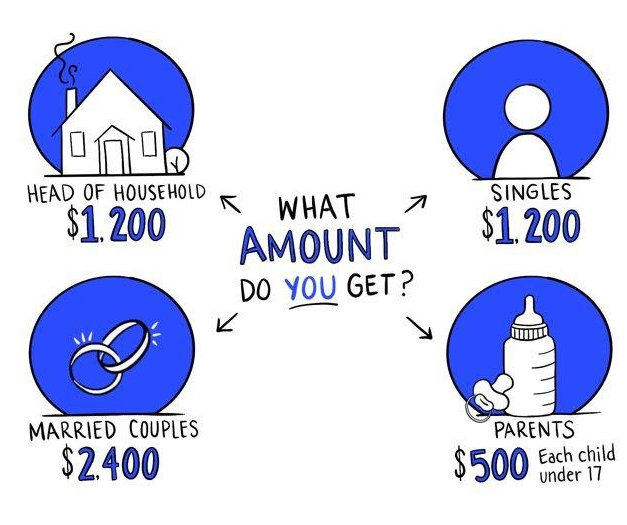 Stimulus payment amounts for individuals and families are as follows:
Singles – $1,200 

Head of household filers – $1,200 

Married couples – $2,400

Parents – $500 for each child under age 17 
Payments begin to phase out at certain adjusted gross income (AGI) levels based on a taxpayer's 2019 tax return if they've already filed and their 2018 tax return if they haven't filed yet. 
Phaseout levels
Singles – Begins at $75,000, phases out completely at $99,000
Head of household – Begins at $112,500, phases out completely at $136,500

Couples (with no children) – Begins at $150,000, phases out completely at $198,000 

Children – No limit to how many children under age 17 a parent can receive $500 for.* 
For every $100 above income thresholds, the amount the taxpayer receives will decrease by $5. 
*Note: A couple whose AGI is more than $198,000 and has children may still receive some money. But for every $1,000 above $198,000, they'll receive $50 less. For example, if a couple's AGI is $200,000 and they have 2 children, that puts them $2,000 above the income phaseout level so they'll receive $100 less from the child rebate. Instead of $1,000 ($500 per child), they will receive $900. 
Quick tax facts to keep in mind
The money received is 

nontaxable

. 

Stimulus payments are technically advances of a refundable tax credit.

If someone receives an underpayment, they'll be able to get the money they were owed when they file their 2020 tax return.

If someone receives an overpayment, they shouldn't have to pay anything back. 

Stimulus payments do not affect 2019 tax refunds. 

Taxpayers should still receive a stimulus payment even if they owe a tax debt. 

Seniors who do not file a tax return will still be able to receive money if they meet the income qualifications based on their 

SSA-1099 form or RRB forms

.

Adults who are claimed as dependents (such as college students or seniors) will not receive money. 

U.S. citizens living abroad

 will receive money if they meet income requirements and have a social security number. 
When will individual taxpayers see this money?
US Treasury Secretary, Steven Mnuchin, said stimulus payments will start going out 3 weeks after the bill passed, but some speculate it could be months for certain taxpayers. Those who selected direct deposit for their tax return will likely receive their money sooner than those who opted to receive their refund by mail. However, the IRS will also be offering an online portal to those taxpayers who opted to receive their refund by mail to provide their banking information.